meet our team of professionals committed to your health
Jarrette Wright-Booker MA, LPC, CAADC
Clinical director/therapist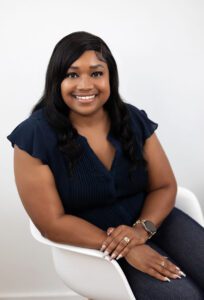 Dr. Lucetry B. Dalton-Trusty, PsyD, LP
clinical Supervisor
Fatrenna Graham MA, LPC, LCS
Clinical Supervisor/Therapist
Ebonne Abdur-Rahman
Therapist
Depression, Anxiety, Trauma,  Church Hurt, Low Self Esteem, Parenting Issues, Stress and Burnout, Blended Families and Couples
Life transitions (divorce, relocation, empty nesters, new parents, Adoption Anger, Management, Anxiety, Couples Therapy, Depression, Family Conflict, Grief and Loss, Oppositional Defiance, Parenting, Self Esteem, Christian Counseling upon request, Trauma and PTSD, Women's Issues
Brittany Christopher
Therapist
Anxiety, Depression, Life transitions, Grief, PTSD, Bipolar Disorder, ADHD, Parenting, Work Life Balance, Self-Care, Stress, Burn Out, Low self-esteem
Coraleen Wilson
Therapist
Perinatal/Maternal mental health, life transitions, anxiety, depression, single parenting, co-parenting, bipolar disorder, parenting issues, body image issues, PTSD and Trauma
Teens, Perinatal and Maternal Mental Health, Anxiety, Depression, Parenting, ADHD, Bipolar Disorder, Trauma, Self-Care/Boundary Challenges and Adjustment Disorder
Teens and Young Adults, Depression, Anxiety, Grief, Self Esteem Issues, Stress/Burnout, Trauma, Work/School Related Issues, Life Transitions
Dr. Alecia Middleton
Therapist
Young Adults, Depression, Anxiety, Grief, Trauma, Attachment Related Issues, Self Esteem Issues, Work/School Related Stress, Women's Issues, Life Transitions, Stress/Burnout
Teens, Young Adults, Depression, Anxiety, Trauma, School Related Issues, Self Esteem Issues, Stress/Burnout
Teens, Young Adults and College Students, Work/Life Balance, Academic and School Related Stress, Depression, Anxiety, Stress and Burnout, and Life Transitions
Kristal Jones
Administrative Assistant
Want to learn more about our therapy services? Check out some of the blogs our  therapists wrote in our calming room!
Begin Working with our Online Therapists Today!
We strive to provide inclusive and diverse services to anyone who is struggling to find mental health support that takes into account their whole experience. We are here to provide the support and accountability you and your family need.
At our Detroit, MI counseling practice you will work with our online therapists who specialize in working with people of color and minorities. It can be hard to ask for help, but no matter where you are, we are here to help you establish radical acceptance for wherever you are so you can begin to move forward and grow.  To start your online therapy journey, follow these simple steps:
Meet with one of our skilled online therapists!

Begin living life on your own terms today!
Additional Services Offered at Introspective Counseling
Having a supportive family and community is crucial to  mental health. That is why we strive to provide a diverse and inclusive space for everyone. Our Detroit, MI therapy practice is a place for anyone at any stage of life to get help. We work with women to address these issues as well as provide screening and assessment for other mood and mental health issues including postpartum depression, anxiety and perfectionism, depression, bipolar disorder and PTSD and trauma, marriage counseling and couples therapy, therapy for moms, life transitions, grief counseling, therapy for high achievers, and LGBTQIA+ counseling, EMDR Therapy, and services for entrepreneurs and professionals.
Additionally, we have services for men as well. If you believe that our services align with your goals and values, then get started with us soon in person or via online therapy in Michigan. Our therapists are ready to work with you!